We parked alongside Harper Road, just south of the Port Coquitlam Gun Club. Apparently you'll get towed if you park at the Gun Club.
The day was great – we started at 8am and starting trail temps were 17C and got as low as 14C. On the way down in the open areas, the temperature got up to 27C.
The stats:
Distance return: 11.7 km
Starting elevation: 324 m
Max altitude: 905 m
Elevation Gain: 581 m
Cumulative elevation gain: 725 m
Time: 4 hours
Trailhead: 49° 18' 49" by 122° 44' 57.3" (Google Map)
Here is the route…
I will start with the feature photo…
Not too bad of a view, but I'm sure as the years go on, the trees will be more obstructive. That's Eagle Mountain on the other side of Coquitlam Lake.
Here is the route we took today ala Google Earth (click for large size)…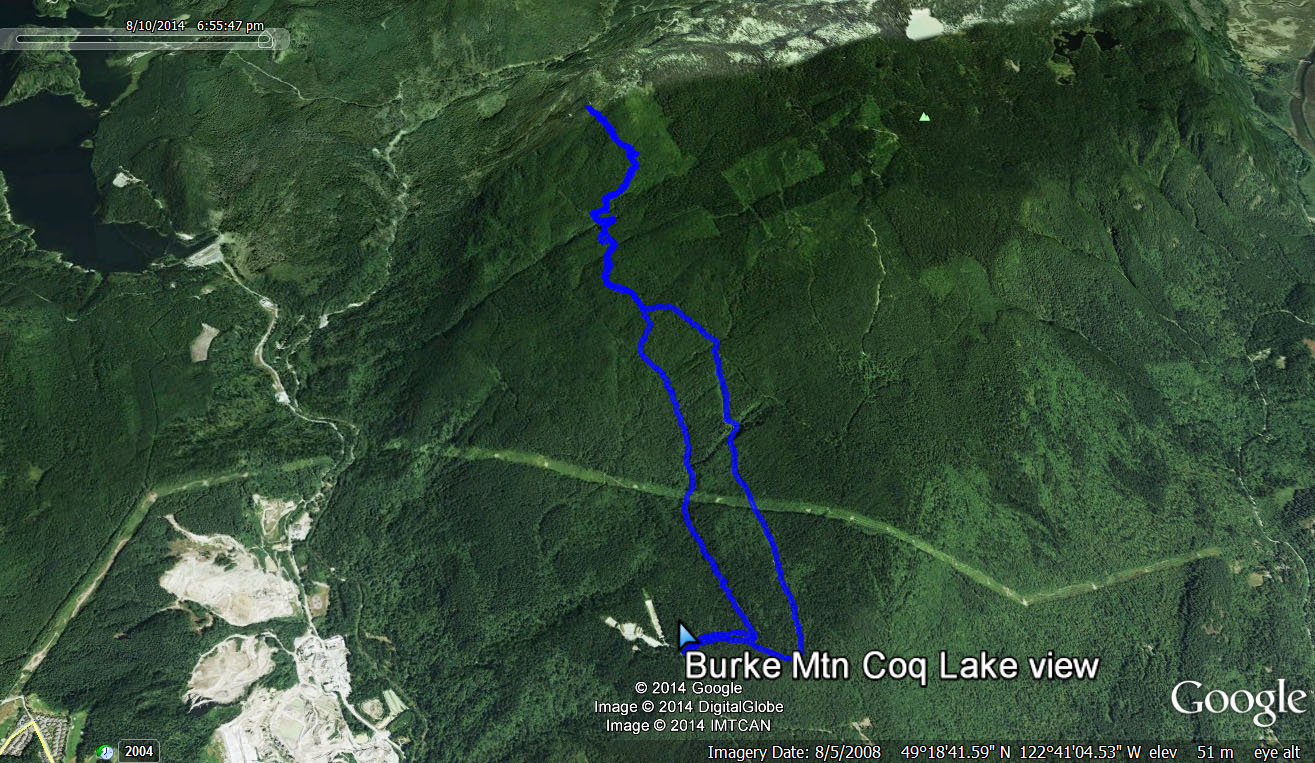 Here's another view we had at the top – it shows some of the quarries just south of the Coquitlam River.
We saw a nice little waterfall on the way up…
The next two photos are dogwood berries and wild blueberries (which were sour)…
Here is a large tree that was cut down, but left in the forest…
The next two photos are evidence of the logging activities here in the early 1900s…
Steel wire…

Make shift logging road…

As we come down the mountain, we could hear the sounds of the gun club.
Overall, it was a good hike with some good exercise. The signage was good I found. I still recommend having a GPS for this hike. Not many people at all. We some mountain bikers on the way down – that's about it.
★★★★★★★★★★★
Before heading out on your hike, make sure you are well prepared. This means, having the TEN ESSENTIALS. It is also important to leave a trip plan (route details and estimated return time) with someone you trust.
Bring your smartphone, fully charged and put it in airplane mode while hiking. I always bring back-up battery packs for extra piece of mind. It is highly recommended that you bring a GPS device; I use my smartphone with a GPS app (Backcountry Navigator). The GPS will work in airplane mode. Learn how to use it before your hike.
For anyone new to hiking, there is a rule to which hikers follow; it is called "Leave No Trace" or LNT. The concept is generally to pack out what you pack in and respect nature, so all future visitors can enjoy what you have enjoyed.
To learn more about LNT, please check out this BLOG by a certified LNT Trainer.
★★★★★★★★★★★